We are pleased to inform you that, Campus Law Centre, Faculty of Law, University of Delhi in association with Centre for Environmental Law Education, Research and Advocacy (CEERA), at the National Law School of India University, Bangalore under the aegis of the Chair on Urban Poor and the Law, Ministry of Housing and Urban Affairs, Government of India is, conducting an Essay Competition.
In this regard, Essays are invited from Academicians, Regulators, Policy Makers, Research Scholars, NGOs, Students across different disciplines, and other stakeholders working in the fields.
All necessary information regarding the competition has been given in the brochure and poster attached below:
Essay Competition-Brochure (9)[1321]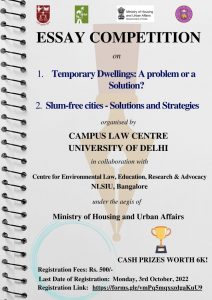 Kindly do revert if any additional information is needed.
For any further queries Contact
E-mail us at: sheltersforpoor@gmail.com or;
Contact us: Vanshika Mittal (+91- 9650666505)
Megha Kedia (+91-8617248458)
—
Thank you
With Warm Regards,
Organising Committee
http://clc.du.ac.in/2022/09/09/essay-competition-date-of-submission-monday-3rd-october-2022/
Campus Law Centre | Faculty of Law | University of Delhi
Web: clc.du.ac.in